We're proud to welcome you to our Place du Bien Manger, a huge food market with over 40 world food restaurants set to a majestic background. Here you'll get the best tastes from all over the world. It's been one of our main attractions since the very start of Couleur Café. Again, we're very committed to sustainability; not only does every restaurant offer at least two vegetarian dishes, they only use biodegradable plates and cutlery. To reinforce these efforts, all waste gets sorted.
Various associations make use of their food stand to support social, cultural and educational projects in underdeveloped countries or for underprivileged groups in Belgium.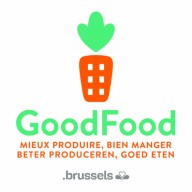 Our restaurants & the Good Food stratregy : produce better, eating healthy
For several years now, Couleur Café has been endeavoring to organize a sustainable festival, in terms of mobility, waste management and food. In 2016, we highlight the Good Food strategy, focused on a sustainable and responsible food consumption.
We encourage our restaurants to follow the Good Food strategy with:
- A local production
- A sustainable and responsible consumption
- Environment-friendly products
- Well-balanced meals
- A reduced food waste
- A wide range of tasty meals
---